Have you ever traveled and wanted something a little more than a hotel room but at rates you could afford? A kitchen, multiple bedrooms, playgrounds, multiple pools, fitness centers and more?
Being a member of The Vacation Club will give you access to some of the most prestigious resort destinations in the world.
Enjoy exceptional rates when you book one of our Resort Vacations. You'll be traveling to some of the most desirable and exotic locations in the world. Let us try to exceed your vacations expectations with extraordinary resorts in destinations such as Caribbean, Europe, Mexico, Australia, Florida, Hawaii, and much more. Whether you are looking for a beach vacation, a golf getaway, or simply a resort destination to relax and rejuvenate for a weekend, The Vacation Club is here to help you every step of the way.
Due to the constantly growing number of resorts available, our Condo directory has been placed online.
Now our members have real-time information, can browse current offers and view photos of a resort or location they are interested in. Additionally, members may now submit a Condominium Request online.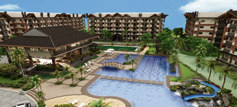 Your selected condominium's availability can only be confirmed upon receipt of a Condominium Request Form. (Submitted through the vacation club website or via member services.) Your request must be submitted 90 days in advance and at least 6 months for high season travel prior to the travelers desired travel dates. The vacation club accepts requests up to 1 year in advance.

$399.00 a week for a studio or 1 bedroom inside the U.S
$499.00 a week for a 2 bedroom inside the U.S
$599.00 a week for a 2 bedroom outside the U.S
Please note: 
Condos are based on availability and prices may vary due to travel season.
To check the status of a request, please call the Condo department.
If you are a member without internet access, you still have access to all the resorts available. You may either call the Condo hotline to listen to a selection of offers or call Condo Department directly.
Please do not make other travel arrangements before your condo is confirmed. Once your condo is confirmed we will be happy to assist you with any travel arrangements.