Hawaii Vacation
Congratulations on your purchase of this Hawaiian Vacation Package.
We look forward to helping you have a wonderful trip. If you want to bring additional people on this trip prices for additional packages are guaranteed within 90 days of your purchase. Please call the promotions department at 1 (888) 645-0473
Your Vacation Package Includes: 3 Nights in Maui 3 Nights in Oahu Also Included: Polynesian Luau or Dinner Cruise Inter Island Flight • Pearl Harbor City Tour Whale watching Expedition (seasonal)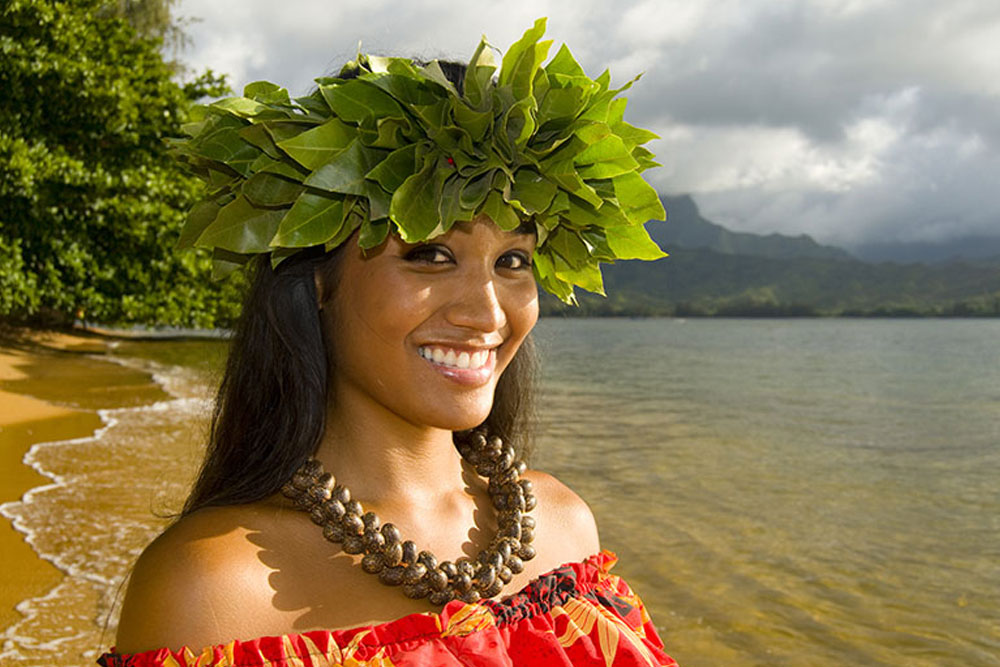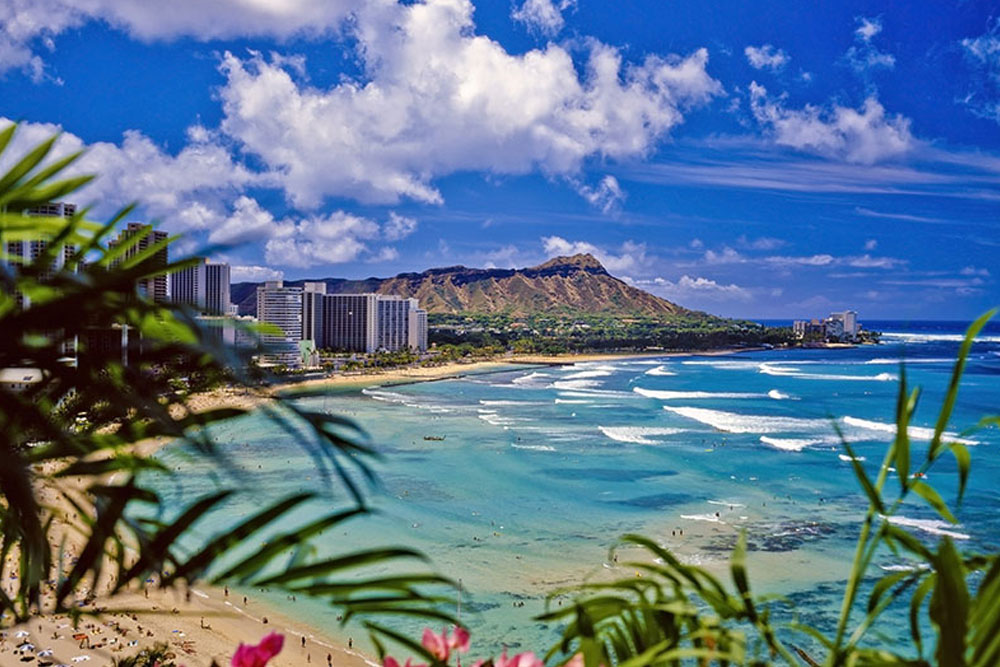 Diamond Head
Diamond Head is Oahu's largest tuff cone formed over 100,000 years ago by an active bubbling volcano. Nineteenth century British sailors nicknamed the crater Diamond Head when they mistook the calcite crystals for diamonds. A well-graded trail leads you up the 760-feet summit to a World War II bunker with a bird's eye view of Honolulu.
Waikiki Beach
Take a stroll on the world's most famous beach! Waikiki is the one place you definitely don't want to miss while visiting Oahu. Splash in the warm tropical waters, body surf, windsurf, learn to surf, or simply walk barefoot and feel the sand between your toes. If that sounds too much like work, why not rent a beach chair and work on your tan?
Pearl Harbor
Pearl Harbor is the only naval base designated as a National Historic Landmark with three significant memorials: the USS Arizona Memorial, honoring the 1,100 men of the Pearl Harbor attack; the Battleship Missouri Memorial, a living museum of the most celebrated and last-built battle - ship; and the USS Bowfin Museum, featuring a World War II subma - rine, a Japanese mini submarine and extensive submarine history.
Bishop Museum
At Bishop Museum, take a histori - cal walk through the Hawaiian Hall to see the over 76,000 Hawaiian artifacts. Built in 1889 to honor Princess Bernice Pauahi Bishop, the last heir of the Kamehameha dynasty, the museum has an impressive collection of the monarchy's artifacts.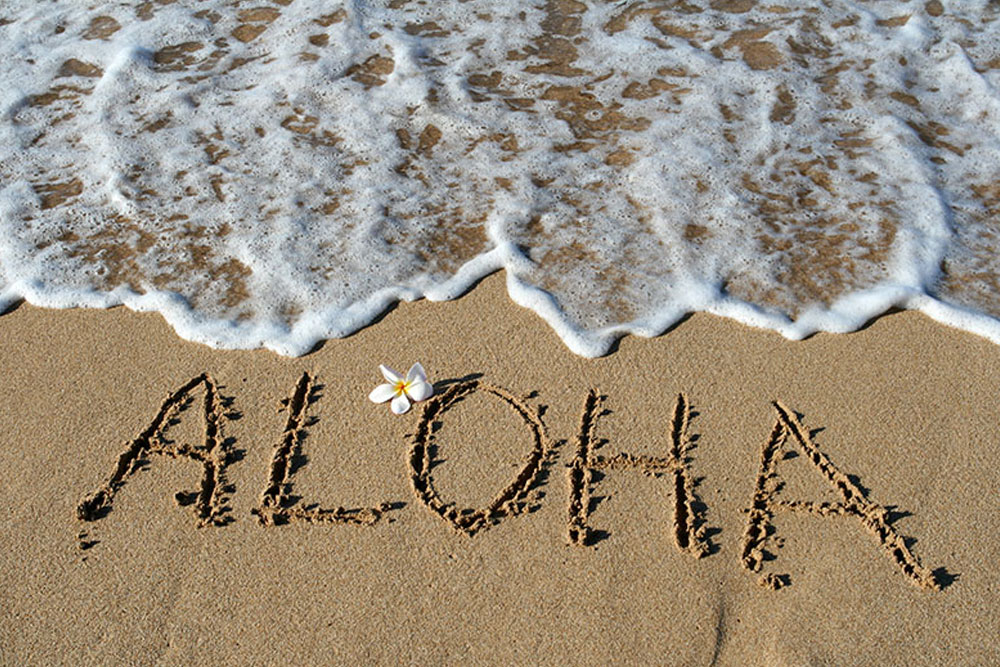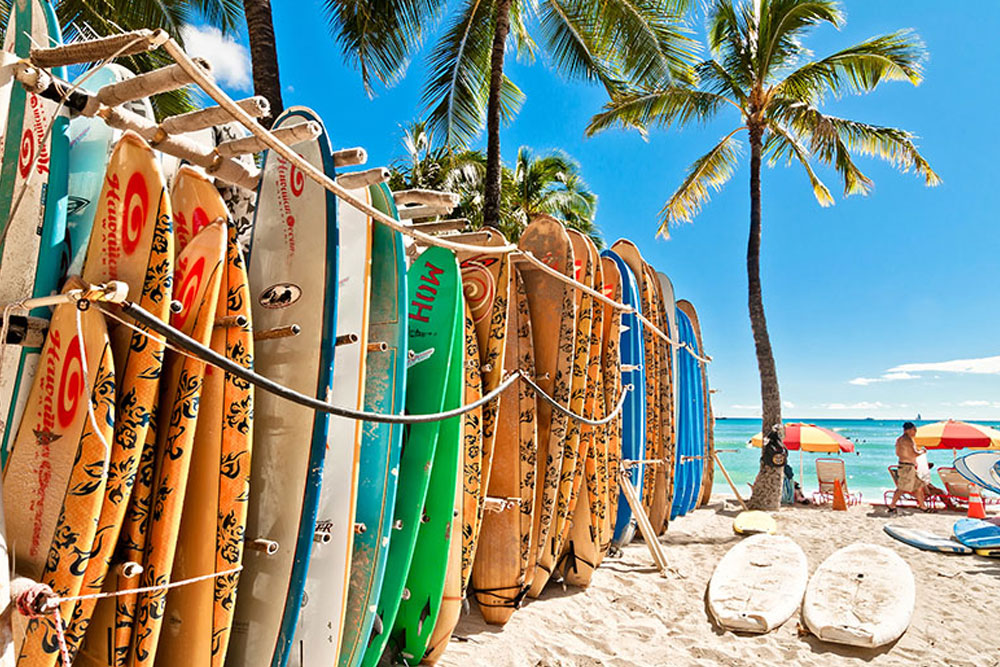 Waikiki Aquarium
The Waikiki Aquarium, founded in 1904, is the third oldest public aquarium in the United States. A part of the University of Hawaii since 1919, the Aquarium is located next to a living reef on the Waikiki shoreline.
Maui
Visitors to Maui can enjoy its white sand beaches and crystal clear waters, ideal for sunbathing, snorkeling and snoozing! But once you've gotten enough sun, Maui's also a great place for shopping and sightseeing.
On Maui's west coast, Kaanapali encompasses some of the best shoreline, shopping and golf action available. Sunbathers and snorkelers share in the large expanse of white sand beach and pristine waters. To take a break from the sun, Whalers Village offers fine dining and shopping galore, while its free Whale Museum provides an educational spin. Golfers delight in two excellent courses, one designed by Robert Trent Jones and the other by Jack Snyder.
Quick Facts:
Principal City: Wailuku Land Mass: 727 sq. miles Flower: Loke-lani Colour: Pink Nickname: The Magic Isle Population: 117,644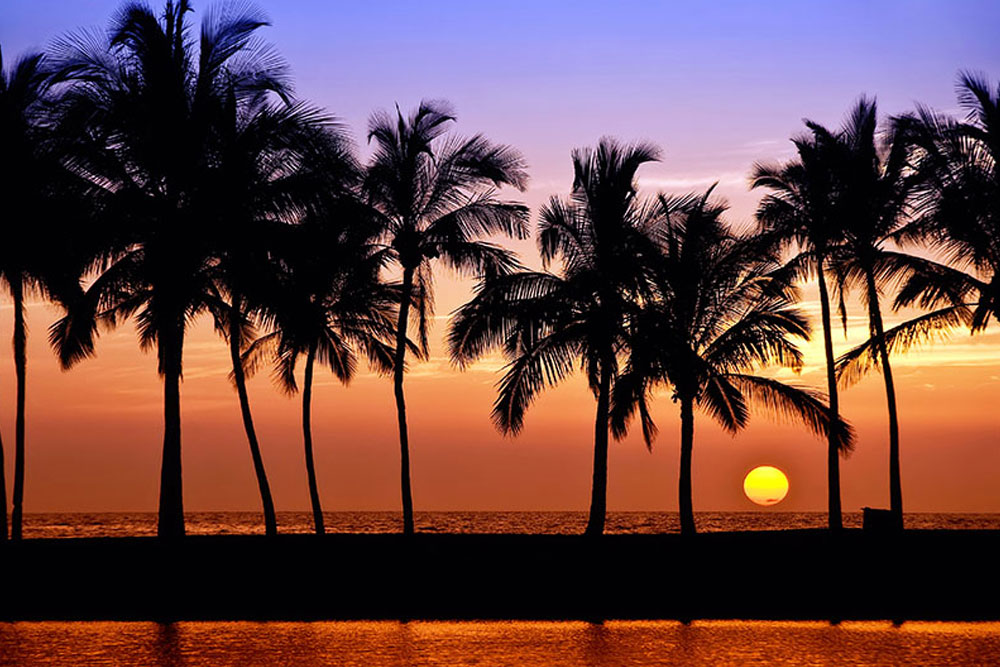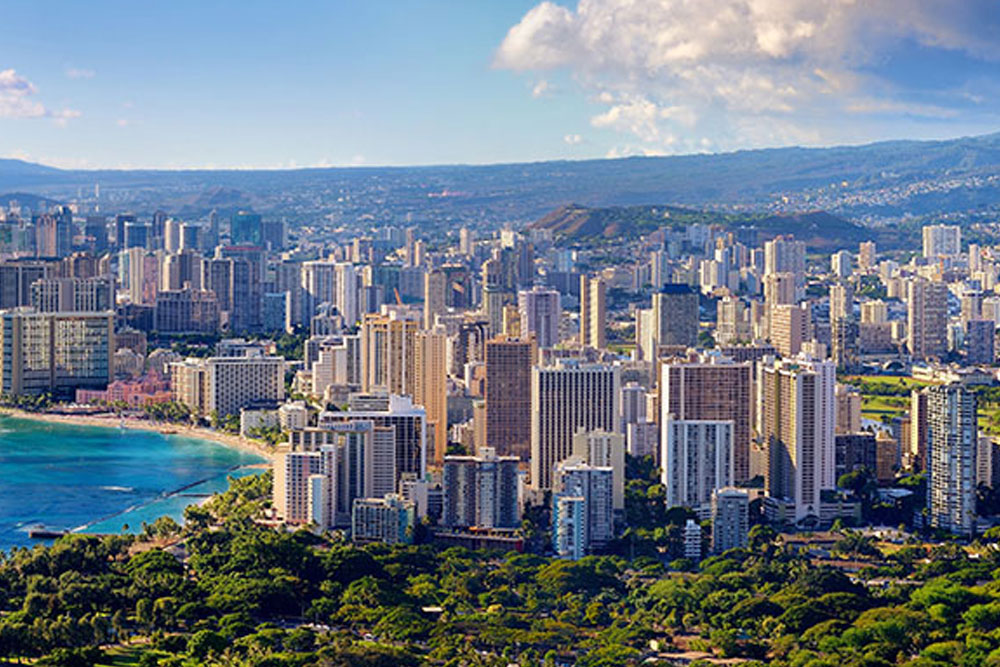 Whale Watching
Maui is recognized as the very model of environmentally sensitive self-regulation when it comes to its precious whales and sea life. These awe-inspiring giants celebrate their six-month stay in Maui's clear, temperate waters with breathtaking leaps of pure joy, and witnessing their exuberance from shore or aboard a sightseeing boat will touch you in ways hard to describe.
Whaler's Village Museum
Model whaling ships, antique whale-hunting tools and many more artifacts are on display. In addition, visitors can enjoy a free movie in the air-conditioned theater. Admission is free. The Whaler's Village is a shopper's paradise featuring art galleries, quality fashion, dining and jewelry.
Shopping
From world-famous designer wear to Hawaii's unique Aloha Shirts and muumuus; from classic masterpieces to the stunning works of contemporary Hawaiian artists; from custom crafted heirloom jewelry and period furniture to unique hand-crafted creations from native materials; you'll find all this and more on any Maui shopping trip.
Golf
Magnificent courses, challenging holes, rich traditions, uncrowded courses and settings so spectacular they have to be seen to be believed - just a golfer's dream? No, it's golf here on the Magic Isle. The resorts on Maui's famed "Golf Coast" feature legendary championship courses: two in Kaanapali, three in Kapalua, two in Makena and three in Wailea, plus six public courses on Maui.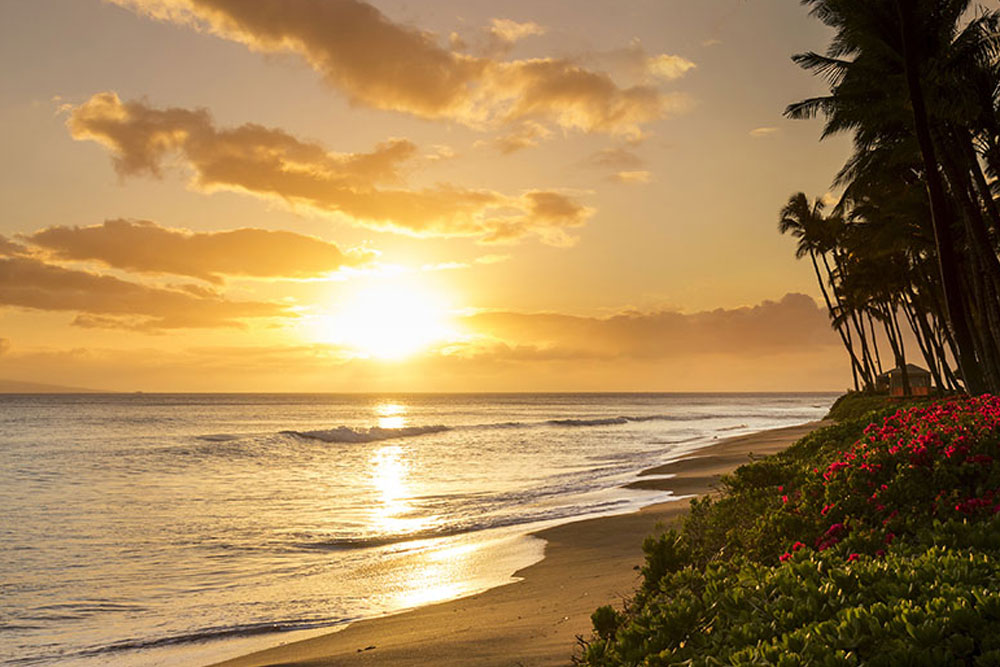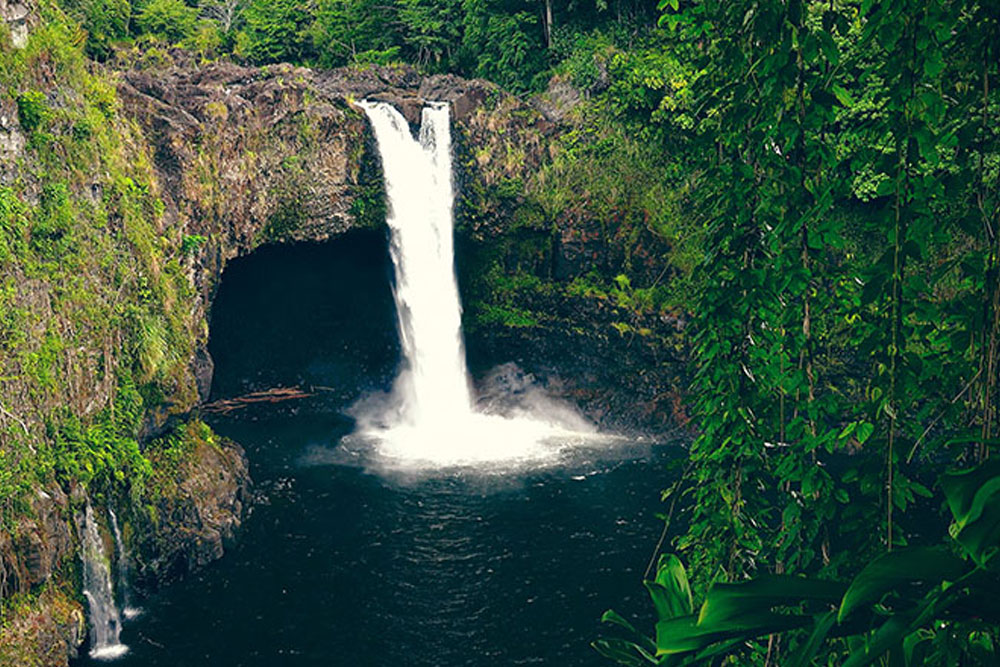 Ka'anapali Beach
West Maui's "signature" beach. Three miles of white sand; sailboat and catamaran rides and rentals; surf and windsurf lessons. Easy walking access from all Kaanapali hotels. Featuring "Dig Me Beach", named "America's Best Beach" in 2003.
Oahu
There's so much to do on Oahu the most popular of the Hawaiian Islands. Beautiful golf courses, spectacular hiking trails, panoramic vistas, intriguing historical points of interest, museums, beautiful white sand beaches and many other treasures await those who explore the island of Oahu. Oahu's rich cultural heritage is all around you. Soak up Oahu's colorful history through museums, temples, cultural centers and festivals. Historical artifacts can be found at both the Bishop Museum and Lolani Palace, home to the last reining monarch, Queen Liliuokalani. Take in turn-of-the-century architecture with a stroll through Chinatown, or ride the trolley through Waikiki and you'll see historical hotels such as the Sheraton Moana Surfrider and the famous Royal Hawaiian Hotel.
Quick Facts:
Principal City: Honolulu Land Mass: 533 sq. miles Flower: Mokihana Color: Yellow Nickname: The Gathering Place Population: 876,146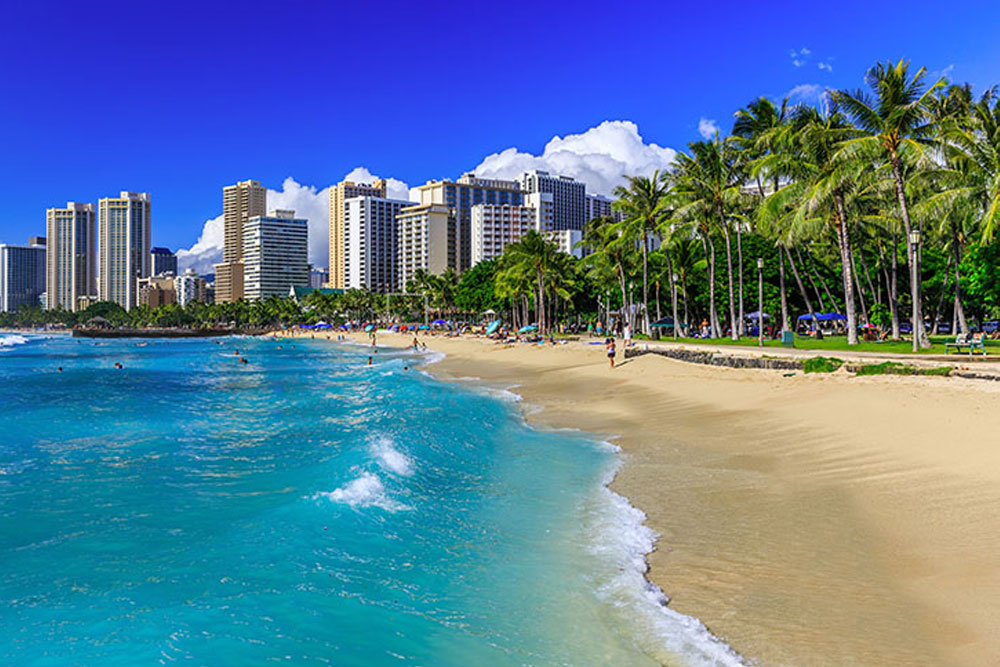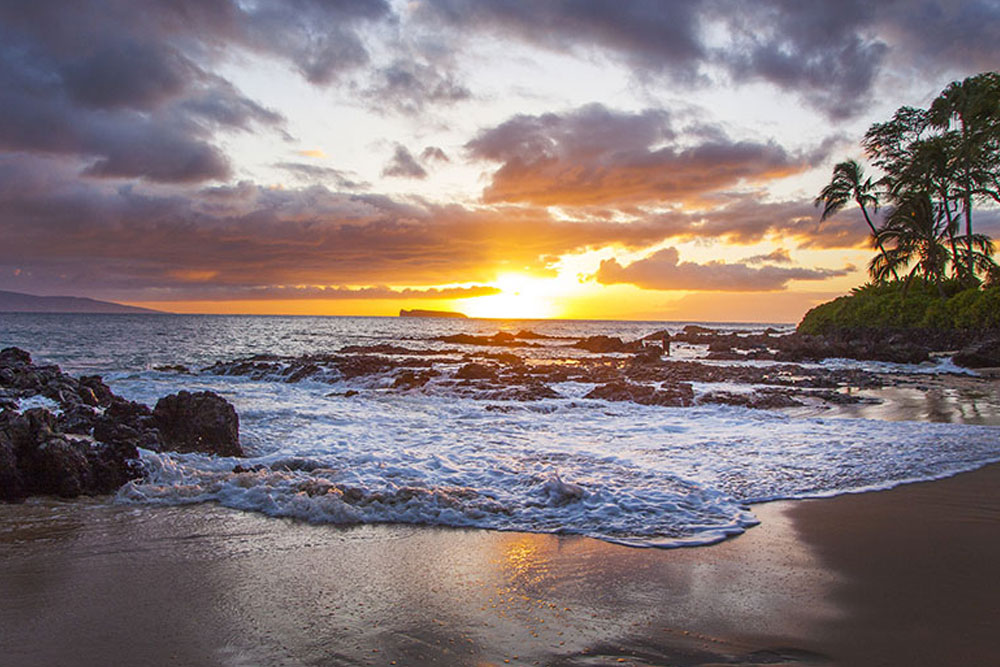 Hawaii
There is no place on earth like Hawaii. Home of the world's most active volcano and the world's tallest sea mountain. Birthplace of surfing and the hula. Former seat of a royal kingdom. Hawaii is one of the youngest geological formations in the world and the youngest state of the union. But perhaps Hawaii's most unique feature is its Aloha Spirit: the warmth of the people of Hawaii that wonderfully complements the Islands' perfect temperatures.
You'll find each island has its own distinct personality and offers its own adventures, activities, and sightseeing opportunities. We invite you to explore Maui and Oahu to find the unique island experience for you.
Oahu
On Oahu the timeless natural radiance of the islands meets the modern luxuries of today. Hike down a lush mountainside, just minutes away from a soaring cityscape. Feast at a luau under the stars one night, dine at a five-star restaurant another. Sunbathe all day on the North Shore then dance all night in Waikiki. There's no shortage of things to do on Oahu.
Maui
Drive above the clouds. Watch a humpback whale breach the sea. Tee off at a championship golf course. Voted "Best Pacific Island," by readers of Conde Naste Traveler, Maui does not disappoint. From the summit of Haleakala Crater to the shore of Big Beach in Makena, Maui has a breadth of exhilarating outdoor sights, activities, and entertainment for every visitor.